Monday, October 23, 2023 CONTACT: Cameron Keir | [email protected] | 614-359-5346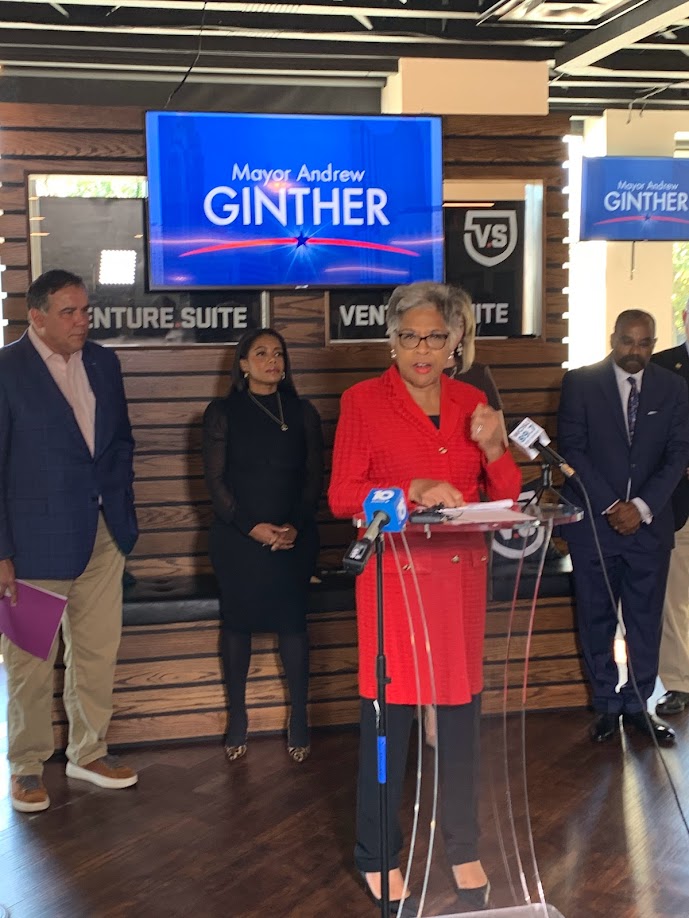 Columbus, OH — Today, Columbus Mayor Andrew J. Ginther further solidified his position as the endorsed Democrat in this fall's Mayoral election, picking up additional key support from Columbus and Central Ohio. Congresswoman and former Congressional Black Caucus Chairwoman Joyce Beatty (OH-3), representing portions of Northeast Columbus, officially endorsed Mayor Ginther for a third term, saying he is the leader Columbus needs for a strong future.
"I know he cares. I know he's made an investment. So I'm asking you to stand with your Mayor, my Mayor, my friend and my colleague. It is my honor and privilege to endorse Mayor Andrew J. Ginther for reelection this fall," said Congresswoman Beatty.
Congresswoman Beatty has been a career partner to Mayor Ginther and Columbus, encouraging those in her district to do their part in reducing neighborhood violence, while supporting the Mayor's legislative agenda here in Ohio and in Washington.
"Today is all about support. It's certainly about the support of Congresswoman Beatty, which I'm grateful for, but it's also about supporting Columbus. We need to support safe communities through investment and common-sense legislation to reduce gun violence. We need to support Columbus' growth by ensuring available housing at every price point. We need to support our youth and future with excellent schools, and we need to support women. Support me this fall while voting YES on Issue 1 to ensure reproductive freedom. So I thank all of you and Congresswoman Beatty for the support this fall by saying this: We're just getting started," said Mayor Ginther.
The Congresswoman also joined the Mayor, House Minority Leader Allison Russo and Franklin County Commissioner Erica Crawley as a lifelong supporter of reproductive freedom and choice, including abortion, and encourages all Columbus neighbors to vote for a woman's right to choose by approving Issue 1 this November.
Congresswoman Beatty joins a growing list of prominent political, civic and labor organizations including the Franklin County Democratic Party, Central Ohio Young Black Democrats, the Columbus Education Association, the Central Ohio Labor Council, AFSCME Ohio Council 8, the Communication Workers of America Local 4502, the Columbus/Central Ohio Building & Construction Trades Council, The Brotherhood of Locomotive Engineers & Trainmen, The Baptist Ministerial Alliance and the Ohio Environmental Council Action Fund to endorse Mayor Ginther for a third term this fall. Mayor Ginther is the endorsed Democrat in this November's Mayoral Election.
###
Paid For by Friends For Ginther