Monday, August 7, 2023  CONTACT: Cameron Keir | [email protected] | 614-359-5346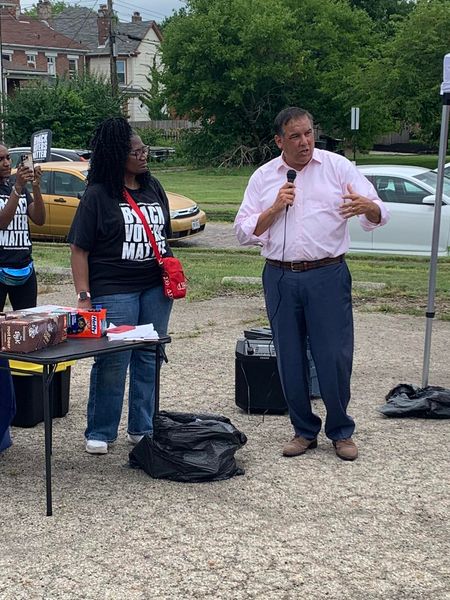 Columbus, OH — In case you missed it, Columbus Mayor Andrew J. Ginther spent the final weekend before the August special election on Issue 1 rallying voters and ensuring Columbus neighbors made a plan to vote before Tuesday, August 8th. Mayor Ginther stands firmly against the issue that would strip power from voters and has endorsed voting NO on Issue 1.
On Saturday, Mayor Ginther, Ohio legislative leaders and Franklin County Democrats joined Columbus City Council President Shannon Hardin for a Party At The Polls, rallying early voters against Issue 1. While at the event, the Mayor greeted some of the hundreds of voters in a line that wrapped around the Board of Elections.
In the middle of a busy Sunday, the Mayor took time to stop at Second Baptist Church, spending the afternoon with the Congregation, the Ohio Unity Coalition and Black Votes Matter to rally Souls To The Polls. The election tradition urges Columbus neighbors to make a plan, get out and early vote the Sunday before Election Day following church services.
"With just over 24 hours left to vote in this critical special election, Mayor Andrew Ginther urges all Columbus neighbors who have not voted early to ensure they have a plan to get to the polls tomorrow. In recent weeks, Ohio's largest media outlets, every living former Ohio Governor from both parties and a bipartisan coalition of prominent leaders and organizations have aligned with Mayor Ginther and Ohio Democrats against Issue 1. This broad opposition should show Columbus voters Issue 1 is just plain wrong, and tell them to vote NO on Tuesday," said Ginther campaign spokesperson Cameron Keir.
Issue 1 would directly impact Columbus and our neighborhoods in a variety of critical ways. Issues including raising wages, funding schools and addressing local laws are all at risk. Citizen-led ballot initiatives are one of the most powerful tools cities like Columbus have in our democracy.  
###
Paid For by Friends For Ginther