Tuesday, July 11, 2023 CONTACT: Cameron Keir | [email protected] | 614-359-5346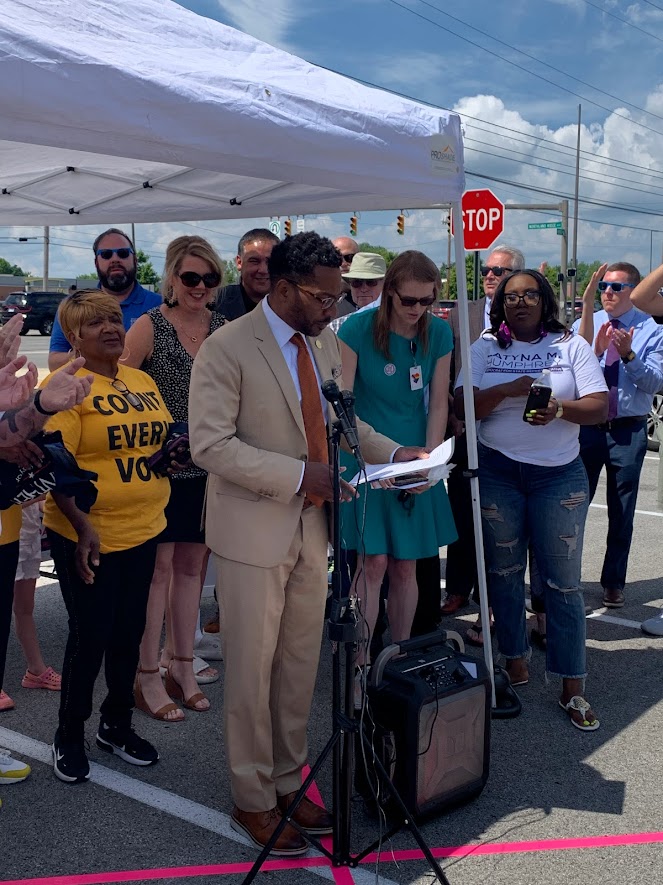 Columbus, OH — Today, Ohio legislative leadership joined Columbus Mayor Andrew Ginther at the Board of Elections, urging Columbus neighbors to vote early and vote NO in the August special election.
Just one issue is on the August 8 ballot, Issue One, which would change Ohio law making it harder for Ohioans to amend the Constitution through citizen-led ballot initiatives. While Ohio Republicans admit Issue 1 is "100% about abortion," passage would also directly impact Columbus neighborhoods in a variety of ways from school funding to raising wages. While supporters of Issue 1 count on a low turnout from a summer special election, Mayor Ginther joins Democrats to ensure Columbus knows what's at stake.
"Issue 1 isn't about being a Republican or Democrat. It's about being part of democracy – and making sure your voice is heard when it matters. Today is about urging all of our Columbus neighbors to do the right thing and vote NO on Issue 1. Vote early, vote absentee if you'll be on vacation. Or show up and vote in person on August 8th. Remind your friends to do the same. People are not used to voting in August. That's what the other side is counting on so we're going to prove them wrong," said Mayor Ginther.
After previously endorsing a NO vote on Issue 1, the Mayor was joined this morning by Ohio House Minority Leader Allison Russo, Franklin County Commissioner Kevin Boyce and Columbus City Councilmember Emmanuel Remy to urge Columbus neighbors to early vote. Leader Russo joined the Mayor's calls while outlining the broad opposition to Issue 1.
"Issue 1 is one of the most important our state has ever faced and there is a reason Republicans created a special election in the summer to try and pass it. Making sure you vote this August is crucial, use all the tools we have available to get your vote counted. Every living former Governor of both parties coming out against this issue, along with leaders of both political parties sends a clear message; Issue 1 is wrong. Police, labor, educators and advocacy organizations are also all opposed to Issue 1, you should be too," said Minority Leader Russo.
Ultimately, Issue 1 also directly impacts the ongoing fight to guarantee access to reproductive rights in Ohio law, something Columbus City Councilmember Emmanuel Remy says simply cannot happen.
"Issue One is most certainly is about reproductive rights. We're here today because we agree a woman and her health care team should have the right to choose, not politicians. So join me in finding a few friends and neighbors and making sure they have a plan to vote early, vote absentee or get to the polls and vote NO on August 8th," said Councilmember Remy.
Mayor Andrew Ginther agrees, firmly believing every Ohioan should have access to the full range of reproductive health care options under Ohio law. That's exactly why he has been and will continue to be a staunch supporter of ongoing efforts to place codifying reproductive rights on the November ballot this fall.
###
Paid For by Friends For Ginther